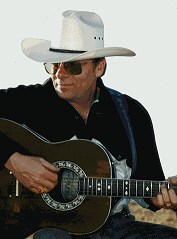 RJ was born the middle child of seven, to a rural North Central Kansas farming and ranching family. His parents were amused that he was humming tunes to songs before he was talking. At the age of 4, he began performing at public functions and was fronting his own band at the age of 13.
Marty Robins and Jack Greene, to name a few began to inspire RJ to write his own material and after working the club circuit for a number of years, he began to concentrate on developing as a writer. After the first Nashville recording in 1984, RJ has now spanned over 2 decades in his craft, producing numerous charted country recordings in both the US and Europe. In 1992, RJ relocated and refocused his efforts near his birthplace in Beloit, Kansas, a small farming community, where he and his wife now reside, a mere 45 miles from the exact geographic center of the United States.
From the vast prairie lands of Kansas, a 1997 ECMA male vocalist of the year nominee, has had great success in Europe with Last Piece of Pride, Catch a Tiny Teardrop, Heartache Avenue, Back On Track, and his biggest success with Huffy Shoe Strut, all making the ECMA charts. In the USA, Catch a Tiny Teardrop went to #1 on a National Indie Chart. A true friend of Country Music and the best friend the Country Fans have ever had, RJ is a Kansas Living Legacy.
RJ penned the title track, Heartland Country USA, and Giving And Losing, a ballad duet with Lorena Prater, and co-produced these two tracks with Randy Wills at Exceptions Studio in Topeka, Kansas.
Under the direction and production of Comstock producer, Patty Parker, also a native of Kansas, and the guidance of Comstock President, Frank Fara, all of the remainder of the tracks were engineered using studio musical greats at Chelsea Studio in Nashville, Tennessee. RJ has made great strides in the musical entertainment business. After consulting with Frank and Patty the decision was made to make a global release of these selections.
RJ is currently working on a new project that he is planning to release sometime in the summer of 2009. It will feature his very talented son, Ryan, as well as many of his uniquely musically talented friends.
Along with his own projects, RJ is helping to mentor young new artists, one of which is Misty Shadduck. He heard her when she was only 13 years of age and is now on the Comstock Label with the planned release of a new single in the spring of 2009. You are encouraged to be listening for this release.
Just as the prairie winds fan a raging fire, RJ has turned from an ember to a flame. He is a phenomenal entertainer and his songs have the feeling of the land. RJ sings from his heart and that inner conviction touches his audiences. There is indeed a raging fire beginning to burn.
R. J.'s success is not self proclaimed, for he lives by his strong belief, "Never let anyone discourage you from following a dream in your own heart; believe in God, and your God given abilities; never ever doubt His timing, because it is always PERFECT".
---
Copyright ©2002-2009 Heart of the Heartland Productions